One of the first tasks undertaken with any energy reduction/management project would be to carry out an energy survey. This allows us to identify opportunities for energy demand reduction within your business. This includes any associated facilities. 
Before the survey is carried out and a report is produced, the objectives, sites and buildings would be agreed. Generally, the objective would be to identify and prioritise up to 7-10 actions that can be taken by the site to save carbon. The sites and buildings would depend on your business premises.
If you would like to undertake an energy survey as a standalone task or as part of a wider project, use the form to send us a message or call us on 01780 435002.
Why Use IC Synergy for Your Energy Surveys
Users can experience up to 15% energy savings if the information and data provided is utilised to target operational, procedural and behavioural changes and improvements across the business.
Our pay per point payment model ensures you are in control of all your costs.
Keep Existing Energy Suppliers
No need to change your utility suppliers or brokers. Energinet will measure and monitor energy and water usage from all fiscal meters.
Identifying energy waste enables you to reduce costs immediately producing a real return on your investment.
Your Energinet dashboard can be created within 24 hours ready to add meters and measuring points as required, Historic data can also be uploaded into the system.
The system is modular in configuration and there is no limit to the number of points, buildings, sites or users.
A great user interface and navigation system ensures you can start using the system effectively and efficiently.
Developed around ISO50001 & ISO14001 templates and procedures that satisfy audit requirements.
Our "Pay per Point" payment model ensures you are in control of all your costs at all times.
What Does an Energy Survey Contain?
A typical report would use the following headings to capture the information and present opportunities.
Objectives for the Visit

Site Energy Consumption and Spend

Energy Management Practices

Carbon Reduction Opportunities

Action Plan
The objective of this report is to highlight the most important activities that the sites need to undertake to save both carbon and money.
This section of the survey would detail a description of each individual site and facilities. This would be accompanied by photographs where possible.
SIte Energy Consumption & Spend
This would detail the annual energy consumption, spend and emissions that result from the fuels being consumed at each individual site.
Energy Management Practices
Details of any energy management practices in place should be listed here. Any results already achieved, or failures, should also be noted.
Energy performance indicators give a measure of activity based energy use, which can be compared with equivalent benchmarks. Several benchmark performance comparisons can be produced against actual performance for the various buildings using the relevant benchmark data for the particular building in question.
Carbon Reduction Opportunities
These will fall into two categories and will be ranked in priority; General Opportunities and Site Specific Opportunities. The opportunities section presents Cost Savings, CO2 Savings, and Energy Savings on an annual basis along with Cost and Payback Years. It also provides detail, rationale and risk associated with each opportunity.
The recommendations will be prioritised by reflecting a balance between the time to implement, estimated cost to implement and savings expected. To see how a typical action plan would take shape, have a look at the image below. The example is for a small business a number of years ago but indicates the format of the results.
The appendices contain three sections, Supplementary Site Information, Detail of Carbon Reduction Opportunities: Assumptions, Calculations & Photographic Evidence, and the Energy Management Matrix. More details of what each one of these sections contain can be found on the example action plan below.
Action Plan – Part of your Energy Survey Report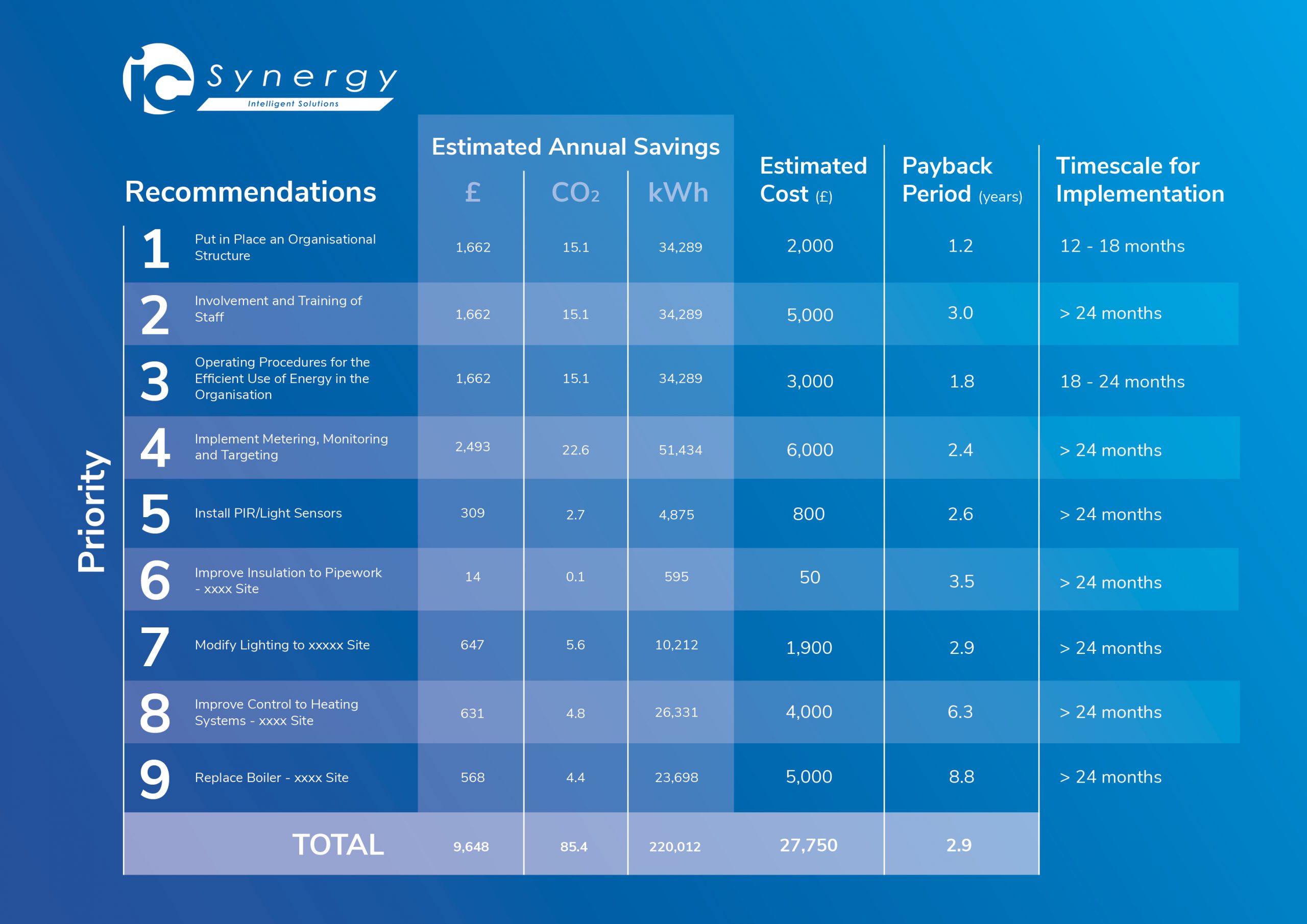 Supplementary Site Information – This section summarises the equipment with highest energy consumption at the site and its condition.
Detail of Carbon Reduction Opportunities: Assumptions, Calculations and Photographic Evidence – This section details the assumptions made, the calculations associated with the savings and costs and any photographic evidence supporting the proposal.
Energy Management Matrix – This matrix will show an overall appreciation of energy management for the survey site and key areas where improvement can be made.