An energy and environmental management system
in a class of its own, ISO 50001 accredited
Energinet is a web based, real time carbon, energy and sustainability management system, built to meet the requirements of the GHG Protocol Corporate Standard, ISO 14064, ISO 50001, ISO 15927 and DIN EN 16247.
Our system offers a very simple user interface and no information is more than three clicks away. Using reports such as ET curves (Energy/Temperature), or alerts in case of deviations, Energinet is a key tool for monitoring and measuring your energy and identifying how and where you can save more energy.
Unlimited Monitoring Points
With Energinet, you have complete and efficient control of all the energy consumption of your buildings. The system is modular so there is no limitation to the number of users. With the Report generator, you can easily create your own custom reports in addition to many standard reports.
All users receive access to the web-based system with a user name and password and in accordance with their access level. Energinet features secure import and export of data. The web server uses the very safe and robust Apache server technology.
Features & Benefits of Energinet EnMS
– Cost Effective
– No Hidden Costs
– Free Demo
– Up to 15% Cost Savings
– System Setup within 24 Hours
– Fully Installed System within 4 Weeks
– ISO 50001 Compliant Templates
– No Need to Change Suppliers
– Fully scalable – Just add or remove monitoring points
– User Friendly
Why use icSynergy's Energinet platform?
Combined with our full-scope energy saving solutions, businesses can save 5-10% on energy costs immediately and comply with new regulations on energy saving, ISO 14001, ISO 14064, ISO 50001, ISO 15927 and DIN EN 16247, plus energy saving roadmaps like the UK Energy Savings Opportunity Scheme (ESOS).
With the advance in technology and a pressing desire to reach net zero by 2050, managing your energy is essential to not only to hit the targets set by the UK Government by 2050 but also to ensure that you are maximising cost savings.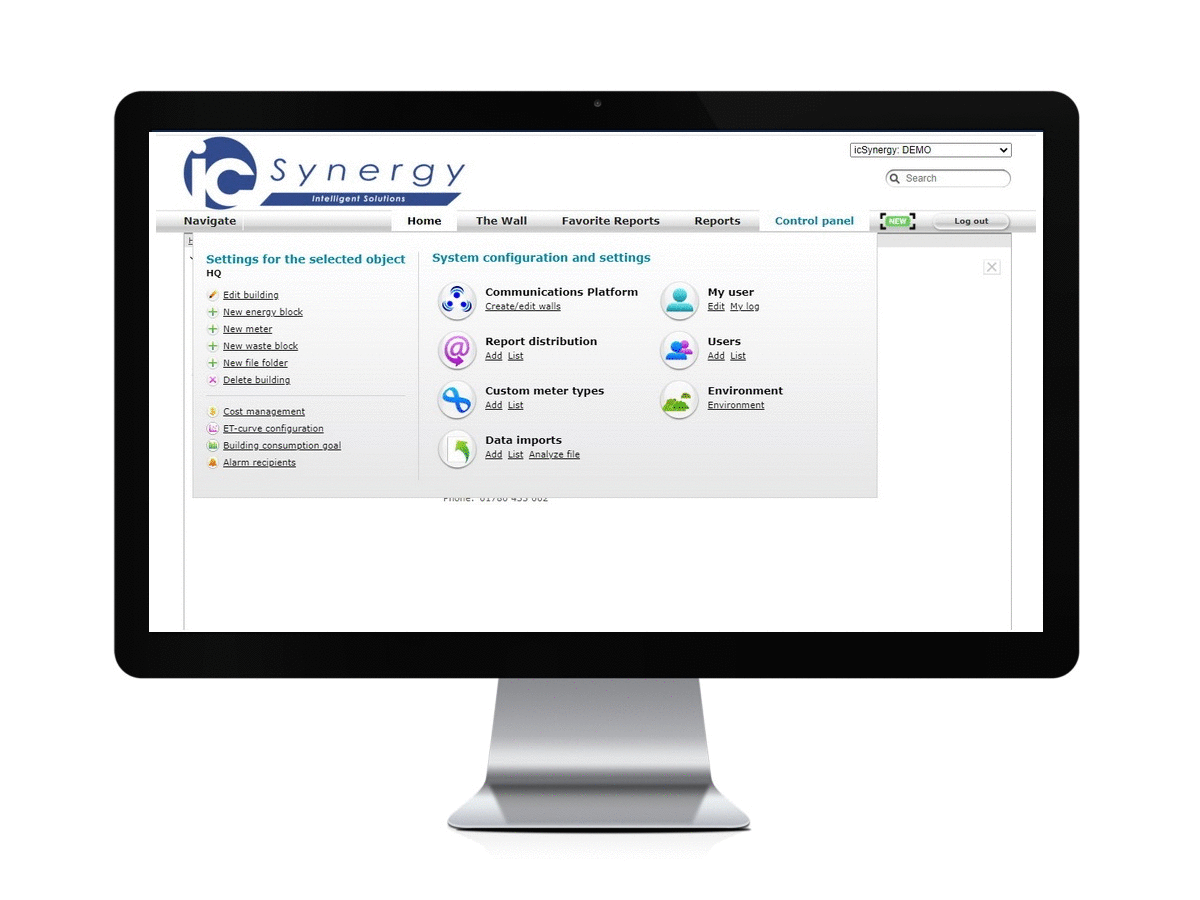 Users can experience up to 15% energy savings if the information and data provided is utilised to target operational, procedural and behavioural changes and improvements across the business.
Our pay per point payment model ensures you are in control of all your costs.
Keep Existing Energy Suppliers
No need to change your utility suppliers or brokers. Energinet will measure and monitor energy and water usage from all fiscal meters.
Identifying energy waste enables you to reduce costs immediately producing a real return on your investment.
Your Energinet dashboard can be created within 24 hours ready to add meters and measuring points as required, Historic data can also be uploaded into the system.
The system is modular in configuration and there is no limit to the number of points, buildings, sites or users.
A great user interface and navigation system ensures you can start using the system effectively and efficiently.
Developed around ISO50001 & ISO14001 templates and procedures that satisfy audit requirements.
Our "Pay per Point" payment model ensures you are in control of all your costs at all times.